ATTENTION: When you do eyelash lift, please apply glue on the lift pads and wait for 1-2 minutes, the glue will get tacky and stickier,then stick lashes to the lift pads.
BEAUTIFUL LOOKING: This eyelash perm kit adjust eyebrow shape and curl lashes which makes your hair looks fuller and thicker. Imagine looking in the mirror every morning, you will have neat eyebrows and curly eyelashes without makeup, no longer struggle to brush and draw your eyebrows every day!
MONEY-SAVING AND EASY TO DO: Doing lashes and brows in a Salon is a huge cost. Our eyelash lift kit can give you the same results at an affordable price. This solution can be used for 6-8 times. There is a detailed instruction book inside of the package that is easy to do at home for beginners.
LONG RETENTION: The effect after using this eyebrow kit can last about 4 weeks.Perfect for people who have messy or thin eyebrows.
SUPERIOR QUALITY & EXCELLENT CUSTOMER SERVICE : The ingredients of this eyebrow lamination kit are premium quality and non-irritating.The natural ingredients will nourish your hair to make sure they stay healthy.Please use this eyelash lift kit within 6 months after opening. And if you find a broken package, dried liquid or some other problems when you receive the kit, please contact us, we are always very willing to help you.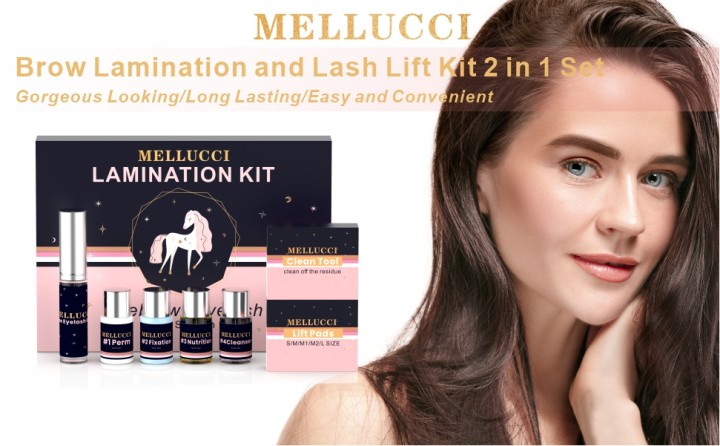 How to do brow lamination
1.-Using cleanser #4 to clean off the oil and dust on your brows.
2.-Put the glue on brows, brush brows to same direction by Y shape brush, then covering with plastic wrap for around 10 minutes.
3.-Apply perm lotions #1 on your eyebrows, covering with plastic wrap for 8-10 minutes.
4.-Remove plastic wrap ,then apply fixation #2 on brows, covering with plastic wrap for 10 minutes.
5.-Remove plastic wrap, clear off all perm residue with cleanser #4.
6.-Apply nutrition #3 to repair eyebrow.
7.-Cover eyebrows with plastic wrap for around 10 minutes.
How to do lash lift
1.-Use cleanser #4 to remove the oil, dust, and makeup residue.
2.-Put the eye pads under eyelids to protect skin from lotions.
3.-Put the glue on the eye pads ,then place it on the upper part of the eyelid and make sure it stays.Then comb the eyelashes with the Y-shaped brush, let the eyelashes stick to the pad.
4.-Put the perm lotion #1 on the eyelashes and then cover your eyelashes with a plastic wrap for 8-10 minutes.
5.-Use Y brushes to remove the perm lotion #1,then apply fixation #2 on the eyelashes and then cover with plastic film for around 8 minutes.
6.-Clean off all residue with cleanser #4.
7.-Remove the lift pads ,then use the nutrition #3 to nourish your lashes.







Returns Policy
You may return most new, unopened items within 90 days of delivery for a full refund. We'll also pay the return shipping costs if the return is a result of our error (you received an incorrect or defective item, etc.).
You should expect to receive your refund within 7 days.
If you need to return an item please contact me we will print the shipping label for you .
Shipping
We can ship to virtually any address in the world via mail shipping , usually shipping time is 8-15days , if you choose wholesale then we ship with DHL, it will take about 2 -3 days to you .
Please note that we couldn't ship if your address is incorrect and you couldn't sign for the package, also you couldn't change the address after shipping.
Fast Shipping
I did not get the chance to use the product yet but the shipping was very fast and Daisy was awesome! Not only was she very professional and fast, she even gave me a coupon to purchase the kit. I definitely recommend.
Works well. I usually have to pay $100 to get my lashes permed so it's definitely time I learn to do it myself. I have found that it take a lighter and burn a silicon rod to be more curved, the out corners stay down better. Pinch the ends together and take a lighter to the center. It will catch on fire, let it burn for 2-3 seconds and then blow it out.
Excellent, already tried, and the glue is normal!